The Mason Vision Series is a forum for Mason researchers and scholars to share their work with both university colleagues and the community more generally. It is an opportunity for invited Mason faculty members to share the frontiers of their scholarship in an accessible style that also inspires lively discussion among students, faculty, staff, and the wider reaches of the community. This semester, the series will be live streamed through GMU-TV, offering those across our community an opportunity to join and engage with faculty. To watch the events at a later date, click on the title links. Subject and speaker details are in the section below the chart.
FALL 2021 VISION SERIES SPEAKERS
DATE
TITLE
SPEAKER
RSVP

Sept. 27, 2021
7:00 - 8:15 PM

 

Nov. 30, 2021
7:00 - 8:15 PM

 

Feb. 7, 2022
7:00 - 8:15 PM
TBA
Dr. Hakeem Oluseyi
 
Climate Change: Science, Politics and Ethics
Event Description
Climate change is one of the most challenging issues facing the world today. Climate science has firmly established that human burning of fossil fuels is the dominant cause of climate change. Therefore, with advances in science and technology, humans can reduce the harmful effects of climate change. However, adaptation to and mitigation of the impacts of global warming demands a concerted effort by governments, corporations, institutions, and individuals. In his presentation, Dr. Jagadish Shukla will focus on the physical science of climate change, while emphasizing that to truly address this issue, one also must understand the many social, economic, ethical, political, and social justice challenges it presents. He will conclude by explaining that even though time is running out, there are reasons to be hopeful about climate solutions. if we act decisively and dramatically to achieve net zero emissions by mid-century, we still have a chance to avoid climate change's most catastrophic impacts.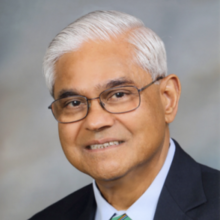 About Dr. Shukla
Jagadish Shukla, is a recipient of the 2021 Presidential Awards for Faculty Excellence, which are awarded for excellence in research, scholarship, teaching, social impact and diversity and inclusion. At Mason since 1994, Dr. Shukla established the Center for Ocean-Land-Atmosphere Studies. He has challenged assumptions about the roles of chaos and the butterfly effect in limiting the predictability of seasonal mean climate by examining how air-land and air-sea interactions influence climate variability and its predictability. His work includes studies of global deforestation, desertification and monsoons as examples of phenomena in which interactions between the atmosphere, oceans, and the land surface play a critical role. The recipient of the highest awards from two international meteorological societies, Dr. Shukla has formed prominent centers and research groups and chaired several World Meteorological Organization programs. He was lead author on a chapter of the Fourth Assessment Report by the Intergovernmental Panel on Climate Change, which, together with former Vice President Al Gore, received the 2007 Nobel Peace Prize.
How the Smart Use of Data Is Being Used to Fight Transnational Crime
About the Event
In her presentation, Dr. Shelley will describe new visionary research conducted within the Mason's Terrorism, Transnational Crime and Corruption Center where sophisticated use of data is providing key insights into critical problems of corruption, terrorism, illicit trade, and transnational crime. She will also describe her National Science Foundation funded team's prize-winning basic research using advanced data analytics, which has contributed to the seizure worldwide of over 55 million counterfeit and substandard medical masks that would have otherwise endangered medical care providers. Such techniques are pioneering a new mode of research that combines policy analysis and computation in support of American industry and human life. Other case studies will discuss novel insights into antiquities smuggling, environmental crime, terrorist activity in Afghanistan, human trafficking, and money laundering—all achieved by powerful open source analysis, rather than by conventional classified techniques.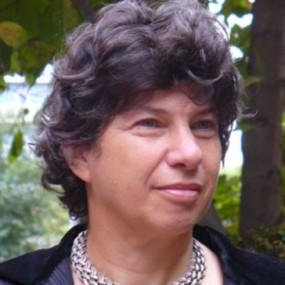 About Dr. Shelley
Dr. Louise Shelley is the Omer L. and Nancy Hirst Endowed Chair and a University Professor at George Mason University. She is a member of the Schar School of Policy and Government and directs the Terrorism, Transnational Crime and Corruption Center that she founded. She is a leading expert on the relationship among terrorism, organized crime and corruption as well as human trafficking, transnational crime and terrorism with a particular focus on the former Soviet Union. She also specializes in illicit financial flows and money laundering. She was an inaugural Andrew Carnegie Fellow. Dr. Shelley is the recipient of the Guggenheim, NEH, IREX, Kennan Institute, and Fulbright Fellowships and received a MacArthur Grant to establish the Russian Organized Crime Study Centers and recently completed a MacArthur grant studying non-state actors and nuclear proliferation. In 1992, she received the Scholar-Teacher prize of American University, the top academic award of the university. She has testified before the House Committee on International Relations Committee, the Helsinki Commission, the House Banking Committee, the House Financial Services Committee, the Senate Foreign Relations Committee and the Task Force on Terrorist Financing on transnational crime, human trafficking and the links between transnational crime, financial crime and terrorism. Professor Shelley served on the Global Agenda Council on Illicit Trade and Organized Crime of the World Economic Forum and was the first co-chair of its Council on Organized Crime. Dr. Shelley is a life member of the Council on Foreign Relations. She has spoken at various international fora and at many universities both in the United States and abroad on transnational crime, terrorism, human trafficking, illicit trade and corruption. Additionally, she often appears on television and radio, including appearances on CNN, NPR's Marketplace and Takeaway, PBS, A&E, the History Channel, C-span, Tavis Smiley, Kojo Nnamdi and 60 Minutes as well as in the European media such as BBC, Der Spiegel, Die Zeit, and Die Welt.
SPRING 2021 VISION SERIES SPEAKERS