The Mason Vision Series is a forum for Mason researchers and scholars to share their work with both university colleagues and the community more generally. It is an opportunity for invited Mason faculty members to share the frontiers of their scholarship in an accessible style that also inspires lively discussion among students, faculty, staff, and the wider reaches of the community. This semester, the series will be live streamed through GMU-TV, offering those across our community an opportunity to join and engage with faculty. To watch the events at a later date, click on the title links. Subject and speaker details are in the section below the chart.
FALL 2022 VISION SERIES SPEAKERS
| | | | |
| --- | --- | --- | --- |
| DATE | TITLE | SPEAKER | RSVP |
| Dec. 7 | Real Characters, Imagined Events: Celebrities and Historic Figures as Fodder for the Stage | Djola Branner, Director of the School of Theater | RSVP |
Real Characters, Imagined Events: Celebrities and Historic Figures as Fodder for the Stage
Event Description
From ancient Greek myths to Broadway musicals such as Hamilton, Tina, and Evita, audiences love stories rooted in historic fact. In the end, it's all about the possibility of 'what might have happened' that captures audiences. Djola Branner, Director of the School of Theater, will look at how contemporary playwrights and directors are weaving fact and fiction, and creating theater that is at once entertaining, thought provoking and inspiring. He will examine some popular stories, and share his own experiences weaving real characters and imagined events for the stage. 
About Djola Branner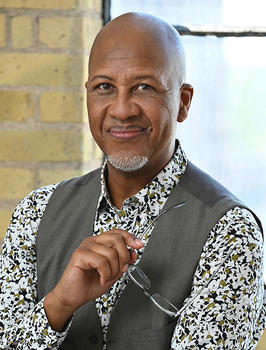 Djola Branner is an artist/educator/administrator who creates original full-length and one-act dramas that give voice to individuals historically absent from the stage. His compelling narratives explore the broad range of identities and cultural experiences that define 21st America. Co-founder of the award-winning performance group Pomo Afro Homos, Branner toured nationally and internationally with their shows Fierce Love: Stories from Black Gay Life and Dark Fruit. In addition to performing in regional theatres across the country, Branner has created such original dramas as Sutta, The House that Crack Built, cover (a Samuel French finalist), oranges & honey, Mighty Real: A Tribute to Sylvester, Sweet Sadie and sash & trim. Branner's interdisciplinary work has been supported by Creative Capital, the Jerome, McKnight and Bush Foundations, and published in such anthologies as In the Life, Colored Contradictions, Staging Gay Lives and Voices Rising: Celebrating 20 Years of Lesbian and Gay Black Writers. His first book of collected plays, sash & trim and other plays, was a finalist for the Lambda Literary Award in 2014. Branner has taught dance, acting and dramatic writing in community and academic settings including City College of San Francisco, Stanford University, University of Minnesota, Macalester College, the American Musical & Dramatic Academy, Hampshire College, Amherst College and Brown University. He is currently professor of theater and director of the School of Theater at George Mason University.
PREVIOUS VISION SERIES SPEAKERS