The Mason Vision Series is a forum for Mason researchers and scholars to share their work with both university colleagues and the community more generally. It is an opportunity for invited Mason faculty members to share the frontiers of their scholarship in an accessible style that also inspires lively discussion among students, faculty, staff, and the wider reaches of the community. This semester, the series will be live streamed through GMU-TV, offering those across our community an opportunity to join and engage with faculty. To watch the events at a later date, click on the title links. Subject and speaker details are in the section below the chart.
FALL 2022 VISION SERIES SPEAKERS: COMING SOON!
| | | |
| --- | --- | --- |
| DATE | TITLE | SPEAKER |
| Fall 2022. | TBA     | TBA |
Living Native American Histories Across Generations
Event Description
Native America holds histories encompassing millions of people, spanning thousands of years, and shaping present-day societies. Too often rendered exotically remote and stereotyped in popular presentations, accessing indigenous realities can require unlearning as a prerequisite to learning. Creating a dynamic applied approach to methodologies uplifting community-based Native knowledge holders as partners in scholarship, Dr. Gabrielle Tayac engages with research to link public understandings with indigenous voiced teachings. This work also minds the interests and reciprocities that American Indian communities seek to protect and restore knowledge disrupted through centuries-long colonial policies. In her presentation, Dr. Tayac will consider acknowledgment, right relationship, and the ways that Mason is at the forefront of developing public history as a community-engaged scholarly practice.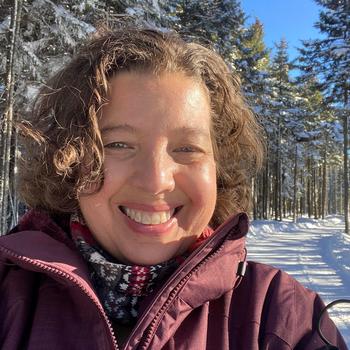 About Dr. Tayac
Dr. Gabrielle Tayac is a public historian and community engaged scholar committed to empowering Indigenous perspectives. She is a Piscataway tribal citizen. Gabi earned her Ph.D. and M.A. in Sociology from Harvard University, and her B.S. in Social Work and American Indian Studies from Cornell University. Her scholarly research focuses on hemispheric American Indian identity, multiracialism, indigenous religions, and social movements, maintaining a regional specialization in the Chesapeake Bay. Gabi served on staff at the Smithsonian National Museum of the American Indian for 18 years as an educator, historian, and curator. She engages deeply in community relationships with wide presence in public discourse. Gabi is an Associate Professor of Public History at George Mason University. 
PREVIOUS VISION SERIES SPEAKERS